numbers and facts give the power
Slot: 11:00 AM
Clue: They had a Dragon and Tiger Plan in 2003
Answer: TCL 560 Metal Gold Smartphone
Slot: 11:30 AM
Clue: Number and facts give you power
Answer: Adata Power Bank PV150
Slot: 12:00 PM
Answer: Moto G4 Plus 4th Gen
Slot: 12:30 PM
Answer: Intex Aqua Ring
Slot: 1:00 PM
Answer: Lenovo Yoga Tab 3 8 Tablet (8 inch, 16GB, Wi-Fi + 4G LTE + Voice Calling), Slate Black
8th Sept. Quiz:
Q: Which was the first phone under Rs. 10,000 with 3GB ram and fingerprint sensor?
A: Coolpad Note 3
Amazon Treasure Hunt on Electronics Deals is upcoming on 8th September from 11 AM to 7 PM. Rs. 1/- Surprises at every 30 minutes. Stay tuned with us for answer updates withing few minutes.
#spotthemoto Contest Ended.
Date: 5th September 2016
Spot the Moto Contest :
Last Slot: 9:30 PM
Clue: They named me ECHO and I have wheels The best however is that I can hold two little ones in me
Answer: Chicco Echo Twin Stroller (Garnet)
Slot: 9:00 PM
Clue: Fold me in or stretch me out I'm the only stick you'll take on your trip
Answer: Selfie Stick-mini with Aux cable for Iphone, Android, Window phone, No bluetooth, No charging required (assorted Colors)
Slot: 8:30 PM
Clue: One corner of the house is mine I send my waves around from there some nay say my name sounds like 'fear'
Answer: Netgear WNR614 N300 Wi-Fi Router (White)
Slot: 8:00 PM
Clue: I draw my name like a wild cat on my watch, your mobile will be safe
Answer: Puma Steel Grey, Sunny Lime and Bioweb Mobile Case (4053059277981)
Slot: 7:30 PM
Clue: When it's as stylish as a Swiss, one is never enough
Answer: Swisstyle SS-703W-703B analog watch combo for women
Slot: 7:00 PM
Clue: Eric Koston Just Did It
Answer: Nike Boys Eric Koston CNVS PS Skate Shoes-Black Smmt Wht-Blk-Crystl Mn
Slot: 6:30 PM
Clue: The frog prince covers up the kid as monsoon hits
Answer: Cute Frog Baby Funny Raincoat Children Cartoon Rain Coat Kids Rainwear Waterproof – Green
Slot: 6:00 PM
Clue: My family has been firing up your smartphones But they'd agree that I am the softest one yet
Answer: Haribo Chawmallows, 150g
Slot: 5:30 PM
Clue: I was once called 'matsushita' you could mount me on a wall or walk while you talk
Answer: Panasonic Single Line 2.4 KX-TG3411SX Digital Cordless Phone (Black)
Slot: 5:00 PM
Clue: Red fruit in a bottle and fresh
Answer: Kissan Fresh Tomato Ketchup Bottle, 1Kg
4:30 PM: 
Clue: A dab of my flaming colour and you're set to go One more hint – I "may be lean"
Answer: Maybelline Color Show Lipstick, Ruby Twilight 208, 3.9g
#SpotTheMoto
Date: 17th June 2016
Slot: 1:45 PM
Clue: Alano embrague
Answer: Linno Perros Women's Clutch (Black)
Slot: 1:30 PM
Clue: The baby Kangaroo blacked out on the Golden Quadilateral
Answer: Joe black rectangular sunglasses
Blockbuster Clue: Tim cook browsed india for a red elephant to ride on
Answer: Safari greater polyester 65 cm red soft sided trolley
Slot: 1:15 PM
Clue: Denali, Chu oyo and kailash in a thin district in the land of knives and chocolates
Answer: Mont Zermatt Anolog Black Dial Mens Watch MZ002blk
Slot: 1:00 PM
Clue: The Nagpal Family moved from Amritsar to Bombay in 1976 after observing the market for 26 years
Answer: D'signer Analog Watch 204 SM Blk
Blockbuster Clue: Kay and jay are 'partner' in crime. They always carry a packet-sized pouch to write down the aliens' names
Answer: Samsonite Black Mens Combo  (Wallet and Pen)
Slot: 12:45 PM
Clue: Artemis is a half viking, half ox warrior that cannot be beaten. What's common is sand,mud,wood or chocalate?
Answer: Diana korr Womens Shoulder Bag Brown DK25HBRW
Slot: 12:30 PM
Clue: Careful Bobby, you'll give yourself a heart attack and ruin my vacation
Answer:  Joe Black Rectangular Sunglasses
Blockbuster Clue: 45 people's skills were required to tame the untamed beast
Answer:  Wildcraft 45 Ltrs Rucksack
Slot: 12:15 PM
Clue: however do you want me do you need me
Answer:  Back to Life Dry Shampoo for Instant Freshness, 125 ml
Slot: 12:00 PM
Clue: An Idea and the new black
Answer:  Idee Wayfarers Sunglasses Light Orange => Idee Wayfarers Sunglasses IDS1844C3SG
Blockbuster Clue: Coming
Answer:  Timex Ironman Sleek Watch => Timex Ironman® Sleek 150 Digital Black Dial Unisex Watch – TW5M011006S
Slot: 11:45 AM
Clue: Hold Your provision like they do in Denver since 1910
Answer:  Samsonite Black Men's Combo (Wallet and Card-Holder)(8901836101522)
Slot: 11:30 AM
Clue: You need yo keep a Watch of where flower of salt is produced
Answer:  Aveiro Analog Green Dials Mens Watch
Blockbuster Clue: Wrap up your world and touch the amber sky with this travel partner
Answer:  Skybags Nylon 60 Ltrs Yellow Hiking Rucksacks (RUC60LYEL)
Slot: 11:15 AM
Clue: The Secret Recipe to make italian salad is to add equal amount of blue and red chillies and to carry it in your hands.
Answer: Caprese Women's tote bag (Magenta)
Slot: 11:00 AM
Clue:
Answer: Idee Wayfarers Sunglasses
Blockbuster Clue: The queen's jewel from the Daniel era, reflected on ocean hue
Answer: Daniel Klein Anolog Womens Watch – DK10155-2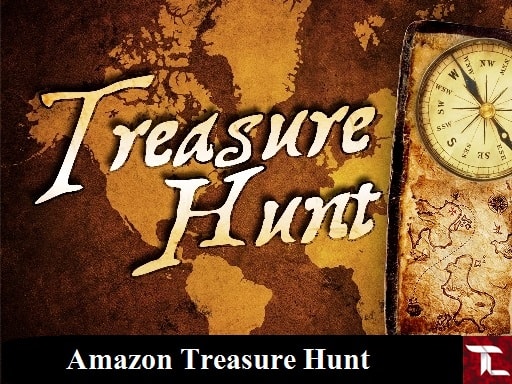 Answer represents name of product, you can find that product in amazon.in and can avail lightening deal.
Do you want to be a participant of  this Treasure Hunt?
1. Download Amazon App from here.
2. Open the App each hour to check the clue for lightening deal.
3. By hunting that clue find out product.
4. With the help of the answer search for the product using features like Search & Filter in Amazon App
5. At the search list, normal price may be displayed but you have to open that and then find for a lightening deal tab there. Rs. 1 will not be shown at the product listing itself.
6. Go to the Product Page after a successful search and Add the Lightening deal to cart.
7. Now Complete the Payment process asap and claim that product at Rs. 1 only.